Many times at the start of taking ballroom dance lessons, students offer objections to learning several dances at once. The biggest ballroom dance lesson concern is about focusing on more than one dance at a time. As a part of our teaching curriculum, we will teach a student as many or as few of the dances as a student wants. We do offer professional advice, and try to educate our students as to which dances to learn. But ultimately the final decision is the students'.
First of all, some students express a ballroom dance lesson concern about never going to a particular dance setting (such as weddings). They also mention not focusing on too many dances at the same time. Another concern some have is thinking that our objective is to make them professionals. In fact, that's far from what our objective is.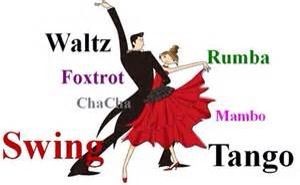 Secondly, many current tv shows give the impression that all dance schools or dance instruction are geared towards producing that kind of a dancer. In reality, to become a professional takes many years. It also takes several hours per day, every day, of training every week.
There are some dance studios that focus on dance competitions only, and that is the focus any time a student comes in. Importantly, in our studios, we focus on social dancing. We also prepare students for any social dance occasion. And we never focus on anything that our students don't want.
I mentioned different dance venues and what to prepare for. There are many different forms of dances: Fox Trot, Waltz, Rumba, Cha Cha, Swing, Tango, Merengue, Samba, Mambo, Polka, Disco, Salsa, Viennese Waltz, Rumba Bolero, Paso Doble, and many more styles of ballroom dance. Some of these dances (such as Paso Doble) you'll never hear played if you are at a social dance occasion. So, there is not really a need to learn this dance to be prepared for a dance occasion.
In conclusion, when you go to a restaurant for dinner and dancing, or to a hotel lounge, or a piano bar, typically the types of dances that are played are lots of Fox Trot, Swing, Rumba, and (possibly) Cha Cha. There are also clubs that play predominantly Latin music. I refer to these as Latin clubs. Here you are going to hear mainly Latin music, and most of those songs are Salsa, Merengue, and Samba.